Economy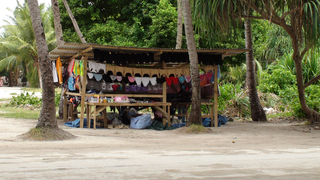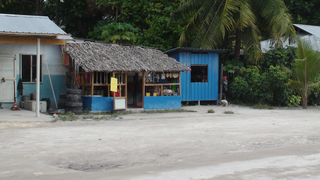 Small Stores
Shops are small and often scattered along the roadside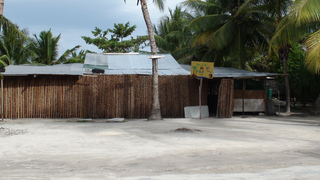 Bar
There are not many private businesses in Kiribati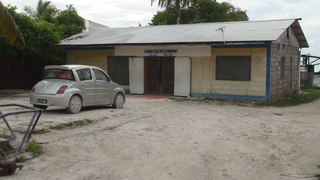 Chinese Restaurant
There are only a couple of restaurants in Kiribati
Kiribati is one of the poorest and most remote microstates in the Pacific.
Kiribati has built a reputation for political stability and fiscal prudence. It has some unique advantages over other Pacific countries – healthy foreign reserves, a history of sound fiscal management and a strong culture that promotes social stability and family welfare.
It has developed numerous strong regional and international relations and has attracted substantial external aid from bilateral and multilateral sources.
Economic activity in Kiribati is constrained by isolation, limited natural resources and a fragile environment.
The economy is highly dependent on fishing license fees, remittances and donor assistance.
Fishing license fees are volatile and averages 29 percent of GDP and 50 percent of fiscal revenue in 2007–12.
To finance fiscal deficits, Kiribati relies on its sovereign wealth fund called the Revenue Equalization Reserve Fund (RERF). The fund was created from pre-independence taxation of phosphate mining and successful investment overseas.
Kiribati has a very substantial trade deficit because it consumes far more than it produces and imports far more than it exports. It virtually has no commodity exports with the principal exports being seaweed, fish, and copra – the dried white flesh of the coconut from which coconut oil is extracted. Its trade deficit is sustained via income from abroad (such as tuna vessel fishing licenses, seafarers' remittances and investment earnings) and grants received by government, churches and other non government organizations.
The public sector dominates the economy and accounting for more than half of gross domestic product (GDP). This means that the general level of demand in the whole economy is largely determined by the Government's budget.
A large proportion of the budget is funded by access license fees paid by foreign fishing vessels to catch tuna in Kiribati's exclusive economic zones and by earnings of Kiribati's reserve fund invested in overseas financial markets. Much of this income is volatile (largely affected by the global economy and global weather) and makes long term planning by the Government difficult.
The private sector is poorly developed and is characterised by low wages and productivity.
Lack of jobs in Kiribati means employment as a seamen is an important and well paying livelihood. Many families depend on remittances for survival and a seaman may support numerous people. Kiribati has around 4000 trained seamen although only a minority have jobs.
There is very little foreign direct investment.
The country is highly reliant on imports of fuel for transport and power generation requirements.
Historically, economic growth has been low.
The Australian dollar circulates as legal tender.
Kiribati ranks low compared to its Pacific islands peers in a number of doing business indicators such as time to get electricity, construction permits, access to land and credit. There is scope for the government to reduce red tape.
Outer Islands
Relatively few employment opportunities are available on the Outer Islands, including in the public sector.
Most households subsist and obtain cash through fishing, agriculture, cutting copra, making and selling crafts and other produce (such as toddy and bread). Occasionally, casual employment may be gained.
Cash availability and opportunities to obtain cash are generally limited on the Outer Islands.
The Line Islands have the best opportunity for agricultural production due to greater availability of land and growing numbers of settlers in recent years.
Most Outer Islands are well-endowed with marine resources and this forms the bulk of the protein basis of the subsistence diet. Annual per capita fish consumption is amongst the highest in the world.
Urban - South Tarawa
There is a significant difference in the livelihoods between those living on the Outer Islands and in urban South Tarawa.
The main livelihood options in South Tarawa are in employment but relatively few jobs are available.
In 2009 it was estimated that out of the 40,000 workforce only 30 per cent had jobs (7000 in public administration, 1800 in publicly owned enterprises and around 3000 in the private sector).
A large proportion of the population are unemployed (unable to engage in paid labour or gain adequate cash income from self-employment).
However, estimates of unemployment varied (from approximately 35% to 65%) based on how subsistence workers of working-age were classified. Some argue that unemployment should cover all subsistence workers who would prefer wage labour if it were available while others believe that the definition should be people not employed but actively seeking work (and assumes that subsistence workers are not looking for alternate cash work). Either way it is clear that a high number of people in Kiribati are unemployed and there is no support program for them.
Because South Tarawa is an urban environment with a high population density subsistence agriculture is limited. Fishing resources have been severely depleted.
The Government rents much of the land from traditional landowners so they are unable to utilise their land for subsistence. Traditional landowners can no longer benefit from their land as they no longer have access to it. The amount of rent is often small - as little as $20 a year.
As a result of unemployment, social problems such as delinquency, domestic violence, and alcoholism are matters of significant concern.
Child labour was eliminated in the 1990s but appears to be increasing in South Tarawa. In 2010, UNICEF found 5 per cent of boys and 10 per cent of girls under 15 years of age earning income most commonly selling crafts or collect tins for recycling.
A relatively large number of young girls, as young as 13 years of age, are involved in sex-work in South Tarawa and this increases their risk of HIV infection.
Economic Vulnerability
Kiribati is at risk to international economic fluctuations.
It uses the Australian dollar as its currency which means it is vulnerable to fluctuations in the Australian exchange rate. Kiribati can't influence the Australian Dollar the way the Australian Government is able to via interest rates and money supply. The Kiribati government therefore has no independent monetary policy and no control over its external exchange rate.
Rising international prices impact on the local economy. In 2008, higher food prices increased inflation to around 19 per cent. As Kiribati needs to import a large proportion of its food (and general goods) it has limited capacity to counteract increasing world prices.
The likely decline in real incomes has rapidly increased the cost of living in the country. The situation is adversely affecting the overall living standards.
Kiribati was badly hit by the global recession. It severely decreased the value of Revenue Equalisation Reserve Fund and remittances dropped significantly as ships were withdrawn from service.
Fishing licence fees have been unreliable.
Economic Activity
The principal economic resources available to Kiribati are the fish stocks in its large EEZ.
There is also a small tourism sector primarily focused on the Line Islands.
Other opportunities for generating additional economic growth are limited.
Seaweed cultivation has been successful but did not develop into a large sector due to problems with transport, storms damage and lack of management skills.
Agriculture development is severely constrained by the lack of land. Import substitution and improving food security would benefit from further development of the agriculture sector. High prices of imported food and fuel create opportunities for domestic agriculture to provide import substitution. As well as land constraints, transport and management skills hamper development.
Fiscal Policy
The Government's monetary and fiscal policy options are limited.
A major fiscal stimulus package is not possible within the framework of the current fiscal situation.
The government has limited external funding options other than from its regular donors and international finance agencies. This makes domestic resource mobilization for public investment very limited.
In any event, fiscal stimulation may not work well as there are very large import leakages and the benefit of the stimulation will be lost overseas.
Fiscal stimulation by bring forward some already planned donor funded investments is unlikely to make a material difference in the short-term as many of the large projects are done by foreign construction companies and again the benefit of the stimulation will be lost overseas.
The current account deficit in relation to GDP is largely driven over the medium term by fiscal policy.
Monetary Policy
The Australian dollar is used as the official currency in Kiribati. This constrains monetary policy.
Constraints of Growth
Kiribati's growth potential is constrained by
limited land area
geographic dispersion across 5,000 km of ocean with associated high internal transport costs
remoteness from major markets with associated high external transport costs
a fragile environment
high vulnerability to natural forces including climate change and rising sea levels
scarce natural resources
infrastructure problems
small-scale economy limiting economies of scale in many activities
the economy is dominated by government and/or government owned companies
lack of private sector development
lack of foreign direct investment
shortage of skilled workers and management skills
The main problems arising from these constraints are the twin issues of poverty and unemployment. Lack of access to opportunities is considered as the main cause of poverty in Kiribati.
Subsistence Economy
A large proportion of the Kiribati economy and livelihood is based on subsistence.
In a subsistence economy people perform traditional activities to meet their individual and group needs for security.
They have no reason to accumulate wealth except to ensure their future survival. In this system the concept of wealth does not exist and there is a high degree of reliance on renewal and reproduction within the natural environment.
Subsistence results in an altered social organization of families. Families join together to form large kinship groups (kaainga) which live according to a set of rules and roles. Each member of a kaainga performs a different set of activities which are assigned on the basis of sex and age. The survival of the group depends on each member fulfilling their roles and responsibilities assigned to them.
Typical adult roles include fishing, toddy cutting, cultivation and harvesting of food crops such as coconut, pandanus, breadfruit and bwabwai. Younger members are expected to collect firewood, fetch water, clean the kaainga's compound and assist the adult members to do the easy part of their tasks.
The concept of specialization is absent as everyone is expected to be well skilled and knowledgeable in many things in order to survive in the harsh island environment.
The customs of borrowing (tangobwai) and asking (bubuti) are still alive. The sharing of wealth and property amongst close relatives is quite common. Bubuti can reduce willingness to invest in business and has damaged economic growth.
Workforce and Unemployment
Approximately 15% of the workforce participates in the formal wage economy and over 60% of all formal jobs are in South Tarawa.
The monetary economy of Kiribati is dominated by the services sector representing over 70% of GDP and the public sector which provides approximately 80% of monetary remuneration.
Kiribati has an unemployment problem but is is hard to quantify.
The general concept and definition of unemployment is "people not employed but actively seeking work".
However, this is difficult to apply in Kiribati because of the dominant subsistence and informal sectors.
Moreover in developed countries the unemployed often receive social welfare benefits and this permits them time to "actively" seek work.
Unemployed people in Kiribati would be doing subsistence activities in order to survive and this would make it difficult to "actively" seek alternate work.
These subsistence workers should probably be considered "self employed" or "village workers". They may be considered underemployed rather than unemployed.
Even after classifying subsistence workers as being employed the resulting unemployment figure is still likely to be around 35%.
Around 2,000 young people entered the labour force each year but approximately 500 find jobs in the formal sector.
High Cost Environment
Like many other small Pacific Island nations, Kiribati also faces relatively high costs.
Imported fuel, due to its small volume shipments and limited storage facilities is expensive
High imported material cost make infrastructure development a challenge.
Telecommunication costs are high and often limited.
International air travel to Kiribati is extremely limited and very expensive. Domestic travel by air and sea are costly and irregular. This high cost of travel and inadequate infrastructure limits the potential of tourism.
The limited number of international flights to Kiribati have resulted in high charges for higher priced fresh fish exports.
Industry Sectors
Agriculture
Most of the working population is involved in subsistence agriculture.
The major agricultural products are copra, taro and breadfruit. Copra production is subsidized by the Government by the payment of above market prices for the copra produced. Copra its major source of agricultural export.
Production for copra in 2005 was 6,194 tonnes with an export value of AUD$1.094 million.
Lack of land, frequent droughts and infertile soil prevent large-scale agriculture.
Tourism
The government has an "action plan" in place to encourage investment in tourism and improving tourism infrastructure.
Most visitors to Kiribati are on short-term work assignments, rather than on holiday.
The biggest problem with the development of tourism has been the lack of regular flight services.
Fisheries
Kiribati has an extensive exclusive economic zone (EEZ). It has some of the most productive tuna fishing grounds in the region and has the added advantage of being located in the migratory zones for tuna stocks. On average, its waters produced over 20 percent of the value of total catch in the Pacific island countries during 2000–11.
Fish resources are its largest economic sector.
Fishing license fees are linked to the size of catch and fluctuate from year to year. These fees are substantial to the economy and contributed to 87% of non-tax income in 2006.
The current domestic fishing industry is small.
The Atoll Seaweed Company, a state owned enterprise, sources seaweed products from around the country for export. The focus of seaweed production has now shifted to the Line Islands.
There also exists a small but lucrative live tropical aquarium fish export project in the outer islands.
While fiscally important to Kiribati, fishing license revenues account for less than 10 percent of the value of fish catch in Kiribati waters.
This indicates the untapped potential of Kiribati's fishing resources.
To utilize this untapped potential, Kiribati needs to promote investment (such as onshore processing), job creation and export generation in its fishing industry rather than just securing license revenues.
To ensure a viable domestic fishing industry infrastructure needs improvement and obstacles for doing business need to be removed.
Manufacturing
The country has a limited manufacturing sector consisting mainly of a handful of state-owned enterprises processing copra, a small tuna processing plant, a tuna jerky factory and manufacturing handicrafts.
The recently opened joint venture tuna processing and packing plant employs modern technology and has created employment and income opportunities.
Wholesale/Retail Trade
A range of imported consumer goods and locally made products such as fresh fish, fruit and vegetables are sold through wholesale/retail outlets.
Construction
There are only a few local companies undertaking small projects in Kiribati. The large-scale projects are usually contracted to large overseas construction companies.
Finance and Business Services
The Bank of Kiribati (part of Australia and New Zealand Banking Group Limited) and the Development Bank of Kiribati (providing micro finance assistance to local citizens) are the only banks in Kiribati.
There are a number of accountants and lawyers.
Mining
The Banaba Phosphate Mine (the royalties from which formed the basis of the Revenue Equalisation Reserve Fund) ceased operation in 1979 when commercially viable phosphate deposits were exhausted.
There are no known mineral deposits elsewhere in Kiribati.
Private Sector
Kiribati's private sector is small partially due to the country's limited production base, remoteness, and high transport costs.
Major private sector activities include fisheries, tourism, retail trade and copra.
Streamlining business and investment approval processes and reducing business costs are important for attracting foreign and domestic investment.
Due to cumbersome procedures and high establishment costs for starting a business, Kiribati ranks poorly among regional neighbours.
Accessing land is one of the biggest impediments to starting a business in Kiribati.
Enforcing contracts and property rights appears to be a difficult and a lengthy process in Kiribati.
Private sector access to credit remains limited and is complicated by unclear land titles. Unclear land titles and cumbersome access procedures restrict the use of land as collateral.
The lack of competition in Kiribati's financial sector contributes to relatively expensive finance costs.
Private sector development is critical for growth. Removing obstacles for doing business is of utmost importance.
Private sector development is the engine of economic growth and produces the following key benefits:
Provide jobs, particularly to the young people
Create wealth that is spread across the whole community
Provide government revenue in the form of taxes and fees that the government can utilize to provide social services such as education and health
Public Sector
Like many other small Pacific island states, the Kiribati economy is dominated by the public sector
The Public Sector accounts for more than half of GDP.
To provide some full-time employment for young people, public servants are retired at 50 years old.
Remittances
A significant part of Kiribati's national income is worker remittances from abroad.
Seamen remittances were on average 5 percent of GDP in 2005–12.
Foreign Aid
Kiribati currently relies heavily on donor aid.
Foreign aid can be problematic as it creates perverse incentives and unwanted dependency.
The Government is inundated with foreign consultancy reports, agencies and countries offering donor or partnership programs, international aid programs and research projects. This proliferation of activity stretches the limited capacity of the Government.
Sometimes these powerful nations have an alternate agenda and the assistance comes with "strings attached".
Some donor programs and government policies appear disjointed and occasionally competing.
To be most effective, donor countries and their agencies need to provide access to human resources, training resources and networks in addition to financial support.
Revenue Equalisation Reserve Fund
Royalties from the Banaba Phosphate Mine formed the basis of the Revenue Equalisation Reserve Fund (RERF).
Revenue Equalisation Reserve Fund assets stood at about three and a half times GDP in 2012.
The recent global economic crisis has reduced the value of the sovereign wealth fund.
As the population has increased this had put downward pressure on per capita value of the fund.
The Government's large drawings on this fund in recent years to balance the economy are not sustainable.