Communication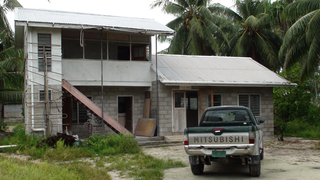 Newspaper and Radio Station
Kiribati Newstar newspaper and FM89 radio station are located in this building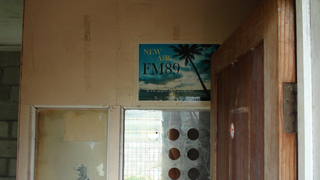 FM89 radio station
Newair FM89 is the only commercial radio station and only plays music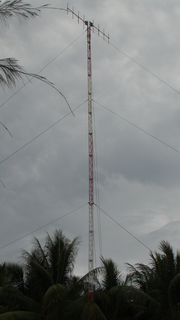 FM89 radio tower
The FM89 radio station tower stands out because Kiribati is very flat and there are no large structures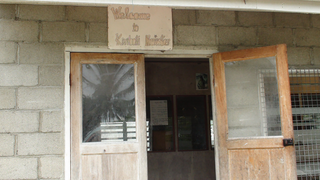 Kiribati Newstar
Kiribati Newstar is an English only newspaper
Kiribati covers a vast distance. The large distances between the islands means that many people have little access to electronic communications. This is partially due to the fact that a large proportion of the media is located on South Tarawa.
Kiribati's media industry is small compared to other Pacific countries of a similar size and population.
Typically communication is via face to face exchanges especially for people located on the outer islands who are often beyond the reach of mass media. This is sometimes referred to as the "coconut wireless". This causes challenges for the Kiribati Government in regard to maintaining contact with outer islands.
On the outer islands, due to lack of other forms of communication, the spaces where people congregate are important for information dissemination.
Kiribati's local media industry has been contracting over the last few years mainly due to diminished funding. The Broadcasting and Publications Authority (BPA) has reduced the frequency of its newspaper (Te Uekara) from twice a week to once a week, closed the only TV station and Radio Kiribati periodically having operational issues. BPA is having problems maintaining equipment due to funding pressure. It has limited equipment and if there is a power failure it cannot transmit. This is extremely problematic in an emergency.
Another major issue is that few journalists, technicians and other media staff have formal qualifications. This results in a limited supply of technically qualified personnel to maintain the equipment and in turn reoccurring equipment failure. Often journalists receive limited training and are employed directly from school.
Communication is central to the development of Kiribati otherwise it remains isolated from the world economy. Kiribati needs to have high quality communication as a way to address diseconomy of scale for being isolated and geographically dispersed.
Recently, local communication facilities including radio, telephone and internet coverage to remote rural areas has been improved.
As an effort to improve the delivery of communication services within Kiribati, the government approved the creation of the Telecom Authority Kiribati (TAK) in 2008. The TAK is a regulator of the communication in Kiribati.
All government ministries and departments have internet connections, telephone and fax connections. However, some ministries do not have enough computers, telephone and fax machines due to budget constraints.
A major challenge is the quality of internet connections. Though there is a wider range of internet and telephone connections the quality in terms of the speed is a problem. The price of the telephone and internet is still very high for most people.
Kiribati does not have access to a submarine fibre optical cable so must rely on satellite for telecommunication and internet.
Television
TV Kiribati Ltd was established in 2004 as a government-owned company. However, it ceased operating in mid-2012.
It was the only television service in the country but transmission failed to reach all parts of Kiribati.
It relied solely on sponsorship and advertising revenue to operate.
Its future is uncertain and the Government is evaluating the station's long-term viability.
Radio
Radio Kiribati is operated by the Government's Broadcasting and Publications Authority.
It relied solely on sponsorship and advertising revenue to operate.
Radio Kiribati is the only form of mass media and has the ability to reach all islands. However, it has limited transmission hours as it does not have enough programming and is constrained by chronic funding issues.
It is the primary communication platform in an emergency.
The BPA also runs an FM frequency radio station (FM96) which reaches Tarawa only.
Newair FM89 is the only commercial radio station and only plays music.
Newspaper and Newsletters
The Government's Broadcasting and Publications Authority produces Te Uekara on a weekly basis.
It relied solely on sponsorship and advertising revenue to operate.
Previously, it was published twice a week but this was reduced to weekly due to financial reasons.
Distribution was also reduced due to the costs and logistics of transportation to outer islands. It is no longer being distributed to outer islands.
The English version has ceased production and now it is published exclusively in the local language.
The locally-owned Kiribati Newstar was established in 2000 and generates some income through charging for advertisements. It is an English language Weekly and produces about a 1000 copies a week. It has limited resources.
The Kiribati Independent is published from Auckland, New Zealand. It was ordered by the Government to close in 2012 but resumed publication in 2013. It publishes in the local language.
The Kiribati Protestant Church started publishing Te Mauri in 2000. It is a weekly local language newspaper.
The Government's Press Unit produces a newsletter, RMAT (Tongorongo Man Ami Tautaeka). The focus is on information from government departments.
Online and Mobile Media
Online and mobile media is constrained by affordability and access.
Mobile technology and internet access is widely used by business people at South Tarawa but is limited on the outer islands due to high costs and lack of infrastructure.
Other Communication Platforms
Traditional methods of communication such as face-to-face and village meetings are important.
On the outer islands household radios are rare therefore making visiting villages and communicating directly with people the most effective means of communication. Drama and role-plays are also popular ways to communicate messages.
HAM Radio
Until a few years ago, the main mode of communication between the islands was through the use of HAM radio.
This system was operated by Telecom Services Kiribati Limited.
Each island has one HAM radio system installed at the Island Council headquarter on the island.
It is used by the general public for inter-island communication, by the Island Council and the Government.
The system has a few major flaws:
The system is not safe for private information because the frequency can be assessed by anyone.
The use is only available on Monday to Friday for 1-2 hours per day.
Maintenance is an issue and the radio may need to be sent to South Tarawa for major repairs.
There is only one system per island so people from distant villages must take long journeys in order to use it.
Satellite Based Telephone System
To address these problems TSKL has decided to slowly introduce a new satellite-based telephone system that also supports internet. After its installation the old radio communication system will be decommissioned and removed.
This new technology also has some problems.
The new technology costs more to use compared to the radio
The connection is vulnerable to rough weather conditions such as heavy rain
People still need to travel to Council headquarters to make a call